Backyard Makeover 101: Outdoor Rope Fence Ideas & Inspiration
Adding an outdoor rope fence to your space is a stylish and cost-effective way to mark off property lines, dress up the dock's gangway, frame in a space, or accentuate hardscapes or landscapes filled with your favorite flowers or garden displays.
While many rope fences are purely for looks, there are some rope fence designs capable of giving your backyard or dock a completed look while keeping pets and kids in (or other things out!).
Today, we'll show you some of our favorite outdoor rope fence ideas so you can start planning your backyard makeover with the perfect rope fence to tie it all together!
What Rope is Best for Outdoor Rope Fences?
Before we dive into your new outdoor rope fence ideas and inspiration, it helps to know what type of Rope is best for the job. 
Synthetic Landscape Ropes like Twisted ProManila offer a natural-fiber look with unbeatable performance in outdoor weather. Made from polypropylene yarn, Twisted ProManila rope will maintain its strength, flexibility, quality, and longevity at a more affordable price versus natural Twisted Manila Rope.
If a natural fiber is necessary for your rope fence project, the Twisted Manila Rope is the best choice, thanks to its heavy-duty, all-purpose, weather-resistant nature. Similarly, Twisted Sisal Rope is another great natural fiber rope option. Regardless of the rope material you choose, outdoor rope fences tend to work best with rope thicknesses between 1"-2".
Outdoor Rope Fence Ideas & Inspiration For Backyards
No deck is too big or too small for a rope fence! This rope fence adds an easily identified boundary to separate the deck from the rest of the backyard. 
This simple rope fence idea would look great in front of a garden or around the yard's perimeter. Photo courtesy of
NextLuxury
.
This rope fence style would complement a lake house, treehouse, or vacation home in the mountains. Photo courtesy of
MorningChores
.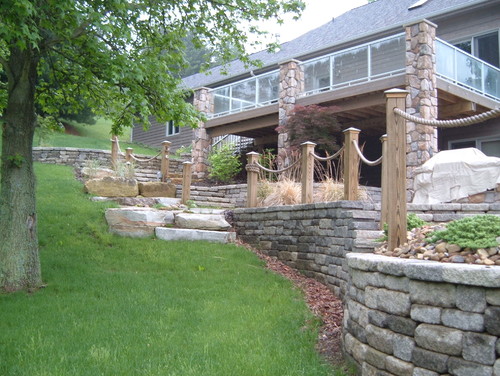 Paired with some outdoor lights and good company, this outdoor rope fence look is a perfect addition to any backyard design. Photo courtesy of
Houzz
.
Outdoor Rope Fence Ideas & Inspiration For Docks
Simple yet effective, this outdoor rope fence idea is just enough to help guide boat-goers to the end of the dock when the sun has set.
Add a little twist to your dock's gangway design with a nautical deck railing design! Photo courtesy of
Pinterest
.
Stay in the Loop
At SGT KNOTS, we make it easy to find the very best rope products for every project you have at home, down by the water, or on the job. Shop our extensive collection of rope and Cord products today to find your new go-to products. Then be sure to let others know how you like to use your SGT KNOTS rope on Facebook, Instagram, and Pinterest or visit the SGT KNOTS Blog to stay up to date on the latest DIY projects and Knot Tutorials!